Posted by Eric Stein - May 4, 2010 CE @ 05:41:09 UTC
In software, there's a delicate balance - it lies between putting so little in your releases and too much.
When you do too little, that you spend more time managing your work than working. When you do too much, you may spend more time thinking about your work than working.
We all know thinking and managing are bad. To avoid these things, I follow a few simple rules.
When you start worrying about the possible unexpected consequences of the release, push it now.
When you oscillate between placid calm and sheer panic, cut your next roadmap target in half and calm down.
To the
comments...
Posted by Eric Stein - March 30, 2010 CE @ 02:00:06 UTC
Some time ago I posted to Facebook about the Congo Conflict Minerals Act of 2009 and how I believe it is important and should be passed. I recently remembered doing so and wondered whatever became of it. As usual, govtrack.us has a good deal of information about
S. 891: Congo Conflict Minerals Act of 2009
, which is currently stalled in the Senate Committee on Banking, Housing, and Urban Affairs. One of my Senators,
Judd Gregg
, is on that committee. I just sent Senator Gregg this letter via his online contact form:
Dear Senator Gregg,

As your constituent, I urge you to cosponsor and support S. 891, the Congo Conflict Minerals Act
of 2009.

I am sure you have heard of this bill and its importance as a member of the Senate Committee
on Banking, Housing, and Urban Affairs - the committee this bill is currently referred to and
seemingly stalled in.

As a pacifist, I do not generally think forcing the United States' policies overseas is productive.
However, as (for the time being) an economic superpower, the United States has an obligation to use
monetary and public opinion pressures to improve the ethics of foreign governments. I believe
this bill will help improve the lives of the people of Congo and the environment of the world in
general.

Thank you for your consideration,
Eric Stein
If you've got an interest in the welfare of the people of Africa and
how your consumer choices may be inadvertently having a serious negative impact
on their lives, please do your research and contact your senators and representatives today.
Note, 6/28/2010
I got a response from Senator Gregg some time ago. He expressed his support for the bill. Unfortunately, as of today the bill is still stalled in committee.
Last Edited June 28, 2010 CE @ 23:11:16 UTC
To the
comments...
Posted by Eric Stein - January 12, 2010 CE @ 00:00:16 UTC
It's a squealing sound. Shrill, even. Why would I like such a thing? How could I want to get into the shower in the morning and hear unpleasant sounds?

Because I don't like being frozen or burned, that's why. The pitch of the squeal goes down if either the hot water or cold water is about to drop precipitously. I get about 2 seconds of warning before I experience serious discomfort.

When I moved in I didn't really think "I hope my shower shrills in my ear", but I guess it's what I want, given the situation. Thanks showerhead!

Last Edited January 12, 2010 CE @ 00:04:23 UTC
To the
comments...
Posted by Eric Stein - December 12, 2009 CE @ 05:19:57 UTC
I wrote this almost ten years ago. I don't remember why.

The rain is coming down in little drips, not big splatting ones. It is also making a background noise that sounds like it does when you're in the shower, but quieter. Every once in awhile a big drop falls off the eaves and goes popsplatt on the ground. The leaves on the trees are a little bit droopy. It is pretty quiet, except for the rain and a crow squalling in the background. Inside the house, it is so quiet that you can hear the cat chewing. It is almost dreary but not quite(it isn't dreary because Philip's chewing breaks the silence).

The rain just stopped. The sun is trying to come out, but the clouds are having the victory. I feel like I want to do something that is less boring that doing this math paper. I feel like this because we are going to a model store soon and we can't go if I'm not done. It is muggy and stuffy inside the house, but the air outside is fresh and cool. The leaves are still soaking wet and would drop their water any minute if the wind rustled the leaves. It is the sort of day that things don't happen in much.

To the
comments...
Posted by Eric Stein - November 5, 2009 CE @ 05:25:04 UTC
A few months ago in late July, I flew to California for
OSCON 2009
. On the way back, I took a few photos out the window of my plane as the sun was getting close to setting. Today I stitched together some of those photos into a relatively wide angle view of what was a breathtakingly beautiful view. I'm not sure this representation does it justice, but here it is nonetheless: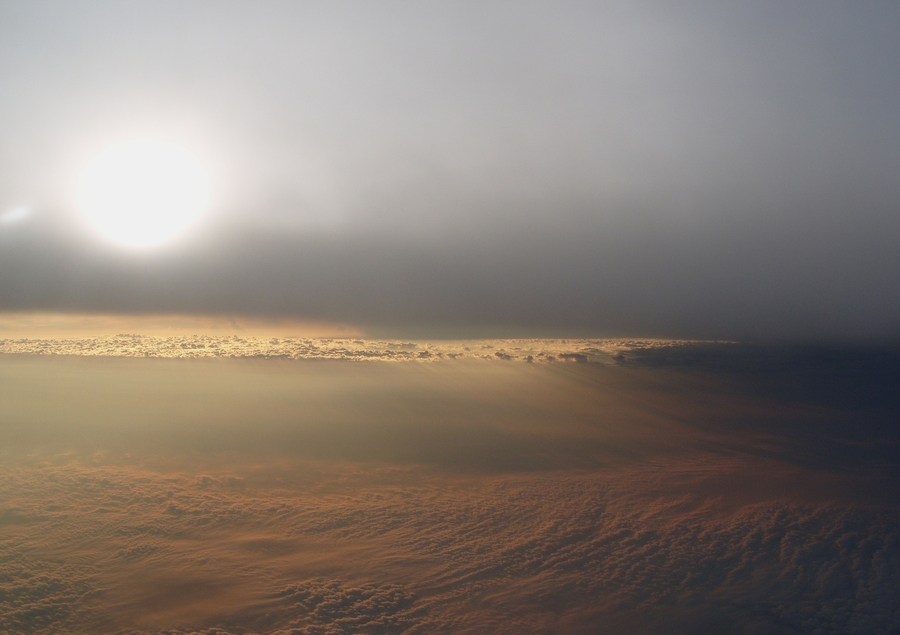 Fly Sky Full Size Panorama
To the
comments...
Posted by Eric Stein - October 22, 2009 CE @ 00:22:51 UTC
People who live in New England can very easily just miss how nice fall is here. Bah, the tourists are suckers, it's just leaves, it happens every year. Well, I went camping last weekend and I'm really happy with the photos I took.
A selection: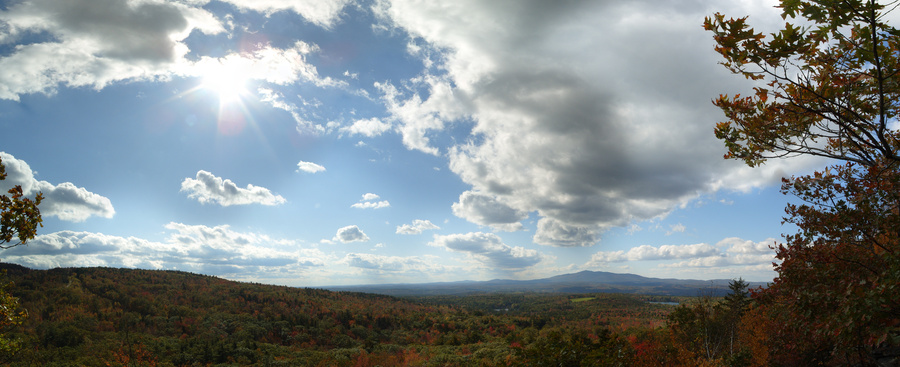 Monadnock View Full Size Panorama
To the
comments...
Posted by Eric Stein - October 18, 2009 CE @ 03:05:54 UTC
I'm posting to tell you about a recipe I've been making frequently in the last year. It's a beanless chili of the pretty spicy persuasion based on Turkey meat rather than Beef. I got it from a cookbook PDF that I downloaded once, but I don't remember where that is or precisely what it was called, so I'll just post the recipe itself.
It only takes about 20 minutes preparation time to make this once you've got it down, and about 45 minutes of cooking.
Ingredients
1 lb ground turkey
5 roma tomatoes, chopped
3 cloves garlic, diced
pepper to taste
salt to taste
3 tablespoons olive oil
6 oz hot salsa
3 jalapenos
1/2 tsp ground cumin
1/4 tsp chili powder
1 onion, diced (1/2 a medium onion will do if you don't want to use much onion)
Instructions
1. Heat olive oil in large sauce pan over high heat add onions sprinkle with a little salt and saute until they become translucent.
2. Add garlic wait 30-45 secs until garlic is light brown but not burnt.
3. Add package of turkey stir until cooked.
4. Add the tomatoes, jalapenos, and salsa.
5. Continue stirring until everything comes to a boil.
6. Add cumin and chili powder, stir.
7. Cover, reduce heat to low, and allow to simmer for 45mins-1hour.
Voila: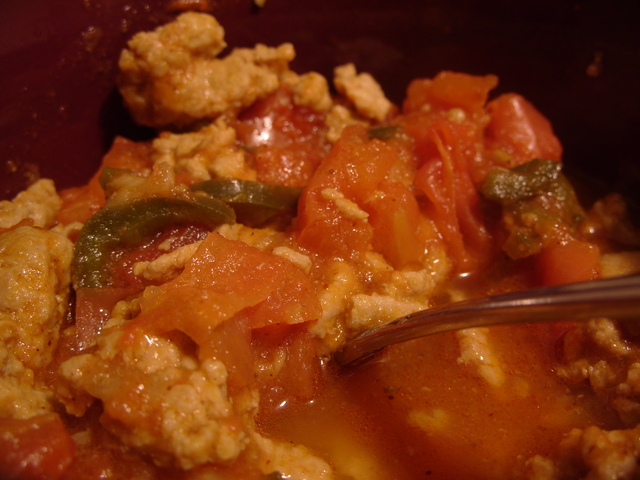 Last Edited October 18, 2009 CE @ 03:13:14 UTC
To the
comments...
Posted by Eric Stein - March 27, 2009 CE @ 03:19:38 UTC
The stone Soup Community Center, a neighborhood outreach, education center, and co-op at 4 King Street, has been gutted by a fire of currently unknown origin. Nobody was hurt as far as I know. The building has been evacuated - all 3 floors are involved and several ladders are at the scene. I hope that the people who built and relied on Stone Soup can find what they need to continue.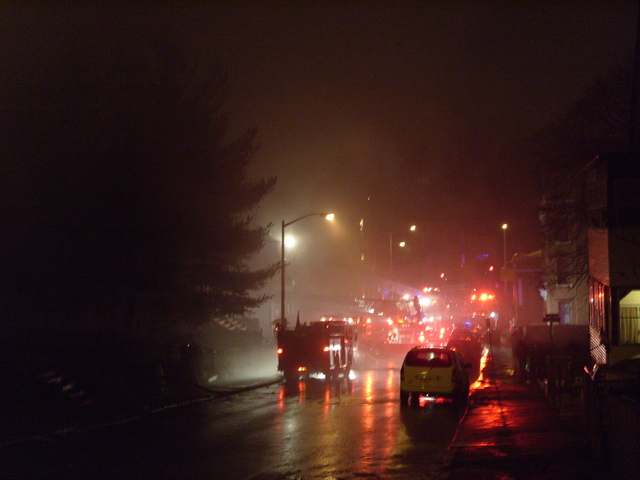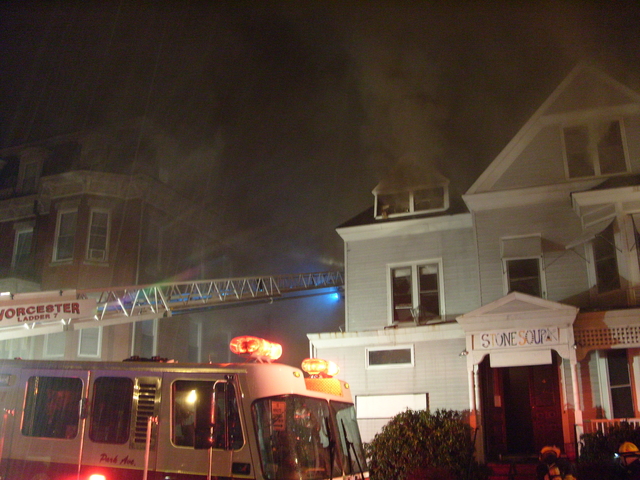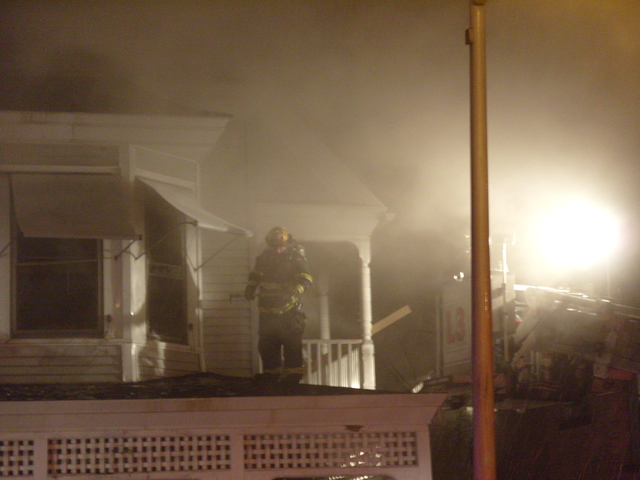 More photos
. My heart goes out to everyone who lost a place to live and an important part of the community today.
Last Edited March 27, 2009 CE @ 03:51:51 UTC
To the
comments...
Posted by Eric Stein - March 5, 2009 CE @ 09:15:41 UTC
I've had a fascination with photography and capturing the moment for a long time. Back in November, I realized that the world of panoramas was within my grasp when
hugin, a panorama stitching program
popped up on Reddit. Since then I've learned quite a few of the finer points of hugin based panorama stitching and made 4 panoramas in total.
The White Mountains
Every Thanksgiving my Dad's side of the family makes a pilgrimage to Pinkham Notch in the White Mountains for a weekend of family, hiking, board games, and eating too much.
From Square Ledge
I took this shot from Square Ledge, overlooking the pass:

White Mountains Full Size Panorama
Lion's Head
That Saturday my cousin Jacob and I climbed up to Lion's head (foolishly without enough gear, but we survived). I got this view:

Lion's Head Full Size Panorama
Vermont Weekend
Last weekend I went up to my friend Jack's Uncle's Friend Dave's house. I got these shots while there:
Sledding Hill
We decided to go sledding on Saturday. I got this one from the bottom of the hill.

Sledding Hill Full Size Panorama
Dave's House
As we were figuring out what to do with the day on Sunday, I stood in the corner and took a lot of photos of the inside of the house... here are the results!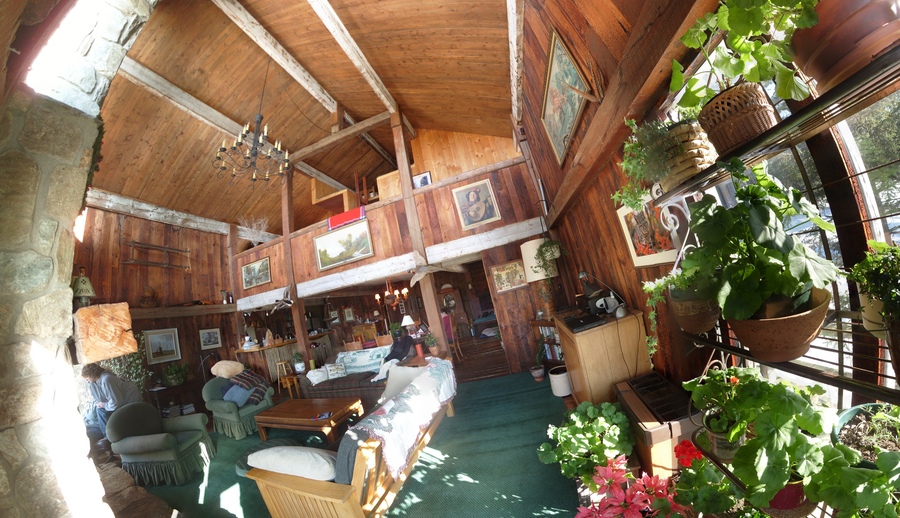 Dave's House Full Size Panorama
Panoramas are Great
I hope you liked my work. If you like photography, you'll love panorama-ing, or whatever the verb for making panoramas is.
Last Edited March 5, 2009 CE @ 09:34:36 UTC
To the
comments...
Posted by Eric Stein - January 17, 2009 CE @ 17:57:28 UTC
Cake. Everyone likes cake. I recently found my mini bundt pans.. so what to bake except mini bundt cakes? I found this recipe at cooks.com but it was not complete.. I found some general figures for bundts and fleshed it out.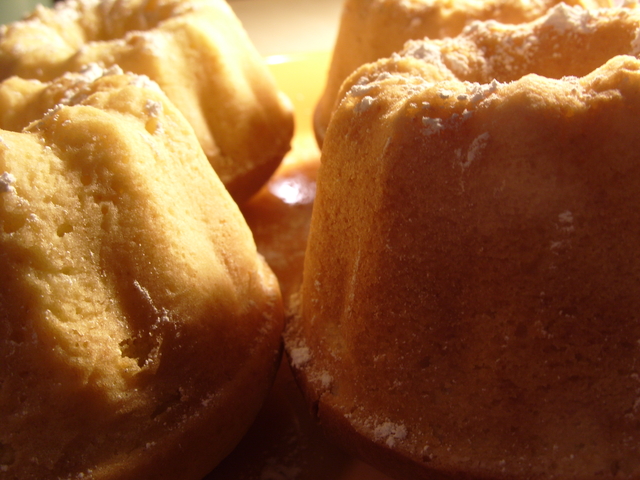 Looks tasty eh? Here's...
The Recipe
Prep time: 20 minutes
Bake time: 45 minutes
Ingedients
2/3 cup butter
2/3 cup confectioners' sugar
2/3 cup sugar
3 eggs
1/2 tsp almond extract
1/2 tsp vanilla extract
2 cups flour
1 1/2 tsp baking powder
pinch salt
2/3 cup milk
Nothing fancy there. You don't need yak milk or anything weird and hard to find like that.
Steps
Cream butter and both sugars until light and fluffy.
Separate eggs.
Add egg yolks, separately, beating well after each.
Mix in extracts.
Mix together flour, baking powder and salt. Add flour mixture and milk alternately to creamed mixture.
Fold in stiffly beaten egg whites. Pour into greased and floured mini bundt pans or cup cake pans.
Bake at 350 degrees for 45 minutes.
Mmm, tasty. It's been suggested that I try chocolate drizzle next time. I'm thinking of either doing that, or lemon glaze next time.
Last Edited January 20, 2009 CE @ 06:29:31 UTC
To the
comments...